Year 5G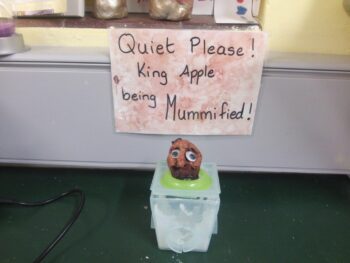 We have had a great first term in Primary 5 learning all about The Ancient Egyptians.
We even managed to 'throw in' the Rugby World Cup as a mini topic. This really was a super 'sideline' topic to develop our geography knowledge of countries of the world and to learn about different capital cities and country flags.
Once we were all allocated one of the 20 countries taking part in the competition, lots of research began. In Literacy the children wrote a report on their team country and then used their new ICT skills in Powerpoint to produce a 5-6 slide 'Rugby World Cup Country' presentation to share with the others in the class.
In Numeracy the children were able to use their times tables to calculate scores in the rugby games (tries 5 points, conversions 2 point and penalties 3 points), make a bar graph of the different populations of some of the countries and even work out what the time in each country is when the children are coming to school.
The children also had the opportunity to design and make a team t-shirt to wear during the campaign. It was a great way to begin P5.
The Ancient Egyptians have not disappointed either. The children have had the opportunity to make papyrus paper on which they wrote a message in hierogylphs, to make Ancient Egyptian boats which they floated along a water chute, to make pyramids as part of a STEM activity, to make canopic jars, Pharaoh collars, cuffs and head dresses and to make mud bricks just like the Ancient Egyptians would have done.
The children had a little tasting of some of the popular Egyptian sweetening fruits like figs and dates and the popular spice, cinnamon. We even did a little bit of our own mummifying with 'King Apple'! (See picture below)
We have been spending a lot of time with the staff and pupils from Camphill, our Shared Ed school, developing our numeracy skills with the Izak 9 cubes and completing lots of fun Egyptian art activities. (Follow our journey on the school website)
We will complete Term 1 and our Ancient Egyptian topic with a visit to the Ulster Museum on the 17th December with our friends from Camphill. It will be a great way to add some real meaning to the children's learning – I can't wait to see their faces when they meet Takabuti, the 'in house' mummy! Camera at the ready!
Your children are an absolute dream to work with and we look forward to sharing with you more of our fun learning in Term 2.
P5 & Mrs Gormley
Recent News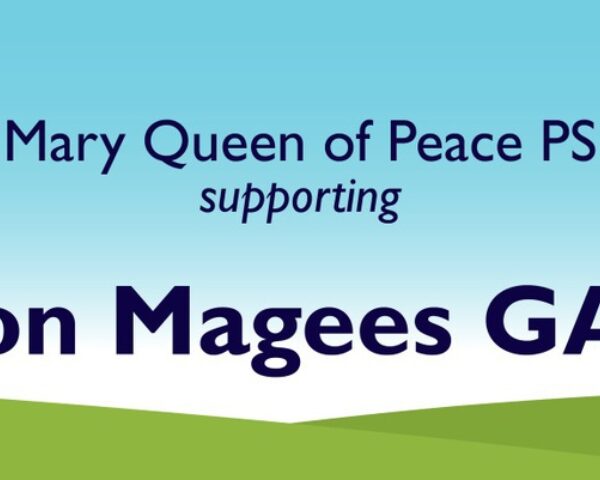 Good Luck to Con Magees
30th September 2023
---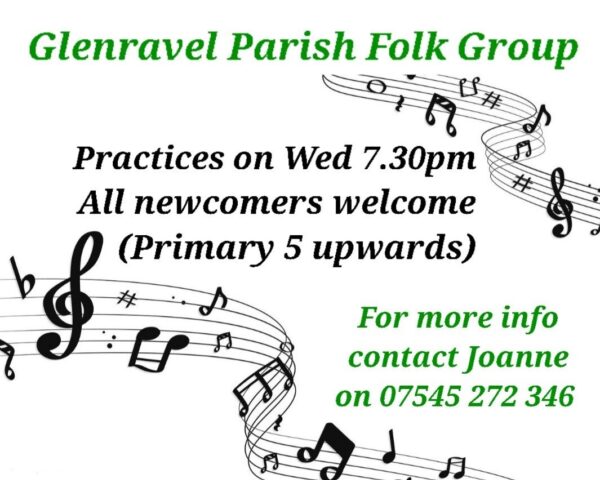 Parish Folk Group
29th September 2023
---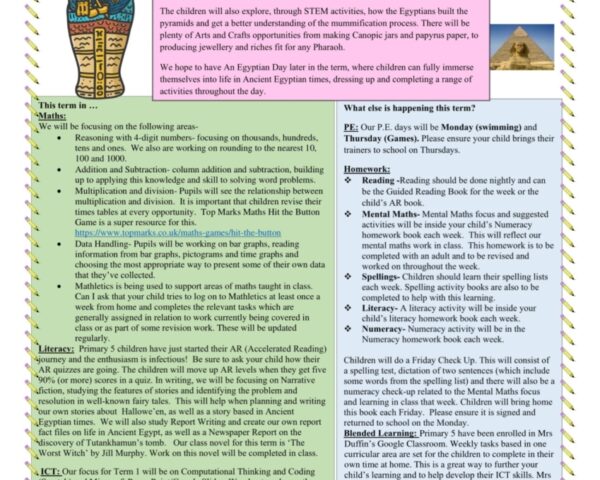 The Curriculum in MQP
28th September 2023
---